When crossing our oceans, ships depend on accurate navigational information to reach their destination safely. To support this, we work with a wide range of data suppliers to make sure our charts contain the latest safety information.
Part of our data supply includes crowdsourced information from the mariners themselves, who report navigational hazards and other sightings to us through the submission of a paper Hydrographic Note, or more recently, sending details through our H-Note App.
What is a Hydrographic Note?
Hydrographic Notes are paper forms that help mariners to notify the UKHO of sightings that range from changes to navigational aids like buoys, to sightings of protected species in high traffic areas. This information is then used to identify any changes we may need to make to navigational products to support safety or to help protect marine mammals such as dolphins or whales.
There are 6 different types of Hydrographic Notes to help mariners submit these sightings, with each note including a template to ensure they submit essential information. For example, the forms may ask for latitude and longitude coordinates to help pinpoint the location of the sighting, or pictures to help UKHO experts assess any identified dangers.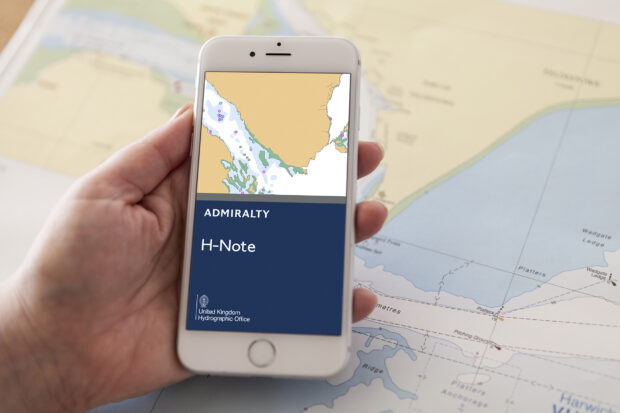 Making it easier
To submit a Hydrographic Note, mariners need to fill out a form and fax it to our office (yes, some ships still use fax!) or fill out a text document and email it to our teams on a designated PC.
However, with connectivity at sea improving, many mariners are now able to use mobile devices such as smartphones and tablets on board. In light of this, we developed a H-Note App that would allow them to submit this information on their own device rather than having to fill out a form on a standalone PC.
Built for both Android and iPhone, the app allows the user to easily select the observation type and use their device's built-in camera and GPS to help gather location information and images for forms.
The app also allows the user to store their ship's details separately and automatically add these to each form, saving time during each submission.
Have these methods worked?
Through both Hydrographic Notes and the H-Note App, we've been able to crowdsource a wide range of important safety critical information.
In 2018 alone, we received 598 sightings from mariners through these mediums. 51 credible sightings were delivered through the app, with 8 of these informing important updates to our charts and products, helping to keep mariners  safe around the world and protect the marine environment.
Using crowdsourcing to further improve our data
As we've found through the development of our H-Note App, crowdsourcing can be a powerful way to improve important data sets and gather new information. And as a Geospatial Commission partner, we're encouraging UK businesses to submit their own proposals to use crowdsourcing to improve public data sets through our geospatial competition.
Closing at the end of January, the competition gives UK businesses an opportunity to get up to £750,000 of funding to pursue crowdsourcing projects that aim to:
Improve the delivery of public services
Support the third sector
Enhance the quality of open public datasets
If you're interested in applying, follow the link below and submit your proposal before the 30 January 2019.
Find out more about the £1.5 million geospatial competition open to improve public services
Michelle Case is a Product Manager at the UK Hydrographic Office.