Location-based information, or 'geospatial' data, is becoming increasingly valuable for businesses and public-sector organisations. But part of this value lies in how easily people can access and use it, or rather, its discoverability.
As part of the UK's Geospatial Commission, we were recently involved in a workshop with our partners to discuss 'Data Discoverability', in order to assess and improve access to our current data sets.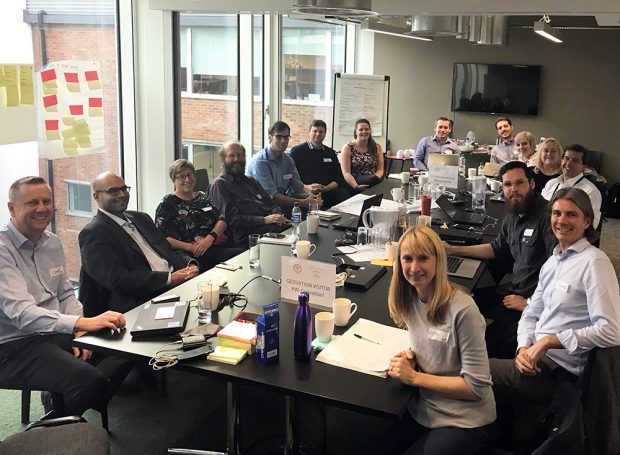 Background to the Geospatial Commission
The government's Geospatial Commission was announced in the Autumn budget of 2017, formed to improve the quality, accessibility and usability of all UK location-based data. By doing so, it's estimated the commission will unlock up to £11 billion of extra value for the UK economy each year.
As experts in marine geospatial data, the UK Hydrographic Office was chosen to work alongside other leading geospatial organisations in the UK, including the British Geological Survey, Coal Authority, HM Land Registry, Ordnance Survey and the Valuation Office Agency. Collectively, we've come to be known as the 'Geo6'.
Together, the Geo6 are working on 4 exploratory projects, sponsored by the Geospatial Commission - the first of which concerns 'Data Discoverability'.
What is 'Data Discoverability' all about?
The power of data is becoming increasingly recognised, and the Geo6 hold vast quantities of it. However, to maximise its value, we need to build a complete picture of the key data sets held by each organisation and fully understand any restrictions on its use or quality.
The aim of the 'Data Discoverability' project is to make it easier for users to find data from across our different organisations, enabling them to create new insight and innovation.
The outcomes of this project are:
To publish an external Geo6 Geospatial Data Catalogue by the end of January 2019
To produce a GIS demonstrator, showing overlaps and opportunities to combine existing data sets within the Geo6 by the end of March 2019
To produce a summary report of what we have learned from working together by the end of March 2019
To kickstart the project, we met for a workshop earlier this month to discuss our aims.
Our first workshop
We held the workshop at the Geovation Hub in London – the perfect venue amongst a community of location-based data and 'PropTech' collaborators, all looking to make positive change happen. Here, we met with representatives from each organisation in the Geo6, as well as the Open Data Institute.
This workshop had three aims:
To identify use cases amongst the Geo6 and understand any issues with finding our data
To understand how data is themed and classified to make it easier to identify
To create an 'as is' view on the way we publish metadata
It was great to see so much energy and enthusiasm in the room. We each used our own experiences of using the other organisations' data to inform our discussions, in addition to any customer feedback we had received.
What we learned
From these discussions, we found that we were facing similar challenges with finding data.
One of these challenges included finding multiple data sources but not knowing which was the most authoritative for the user's purpose. For example, several of us hold data about the coastline – from high and low tide times to coastal jurisdiction – but when asked a specific question, the user doesn't want to hear "it depends".
Therefore, we need to be better at describing our data in ways that not only help the user to find the data, but also to use it.
We learned that there were some themes under which we all held data. In these cases, we wanted to compare and align the data (including how we name and tag it) to make it easier for users to find. We also identified challenges with not knowing if the data existed at all – all good things for us to tackle together.
After this first phase of work, we are looking to engage a wider user community to feed back the issues they are facing when trying to find our data. We're working openly to share our journey with you as the project progresses – so be sure to look out for our next update.
Nick Mort is a Senior Data Architect at the UK Hydrographic Office.