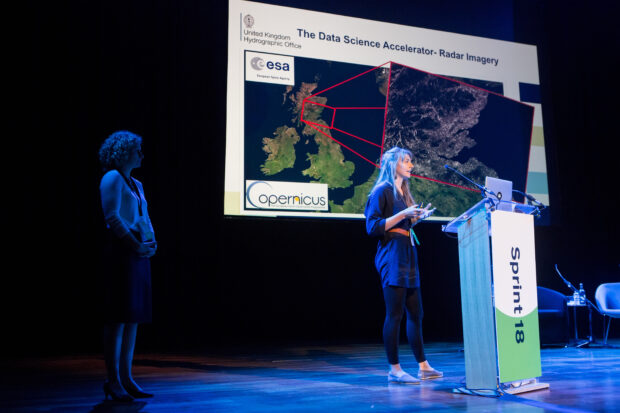 In May, our Head of Data Science Kari Dempsey and I had the amazing opportunity to represent the UK Hydrographic Office (UKHO) at Sprint 18 as part of the Innovation Showcase.
This event celebrates transformation and innovation in government and looks to the future, setting our digital strategy for the next year.
It was awesome to have the opportunity to discover how new technologies are being used so widely across government and share what we have been working on.
We were there to present our work on detecting uncharted hazards at sea.
Being asked to speak was a special honour for me. The work we showcased started life two years ago as an idea I took to the Data Science Accelerator programme run by the Government Digital Service (GDS).
The accelerator helped me prove the concept and gave me the space and time to work on the project with a supportive mentor.
Working with a demonstrator back in the office, I could gain the full support of the UKHO data science team to succeed in creating a production system. The system went live in June and we were proud to share it with the Sprint 18 audience.
How it works
The system itself uses a blob detection algorithm to detect objects visible in the ocean on satellite imagery. Then a trained system, called a convolutional neural network, classifies the objects and labels the data with a prediction of what that object might be.
The types of objects we are finding are usually related to the energy industry and are either wind turbines or oil and gas platforms.

Since the launch of the system:
we have processed satellite imagery covering 881,280 square kilometres of ocean

we have found 342 hazards that were unknown to the organisation

we are expanding the search further around the globe
Sprint 18 showed how successful we can be when government works collaboratively and gives teams the tools, infrastructure and development time they need. The results showcased at the event were innovative and transformative.
What next?
As we announced at Sprint 18, UKHO is a new hub location for the Data Science Accelerator in Taunton this year - with a specialism in geospatial projects. Our team is continuing to develop data and technologies that work to make our oceans a safer place.
Catherine Seale is a Senior Data Scientist at the UK Hydrographic Office.
To keep up to date with the latest on the UKHO blog, please subscribe here.