Our oceans are critical to so many aspects of our day-to-day lives. In the UK alone, they provide jobs for over 500,000 people, contribute more than £47 billion to the economy, and are the means through which 95% of all trade reaches the UK.
Globally, we rely on our oceans for trade, food, energy and other valuable resources, as well as enabling environmental protection and international aid. Collectively, this is what has come to be known as the 'blue economy' and it's estimated to be worth $3.2 trillion by the year 2030.
But how do we unlock the value of the blue economy? The key lies in accurate, comprehensive marine geospatial data.
The value of 'blue data'
We are growing increasingly reliant on our ocean resources to meet the needs of today's fast-changing world, particularly with growing industries such as maritime trade, tourism and renewable energy, as well as new emerging sectors. As a result, there is a growing need for data about our oceans – or 'blue' data.
Not only will this data help to unlock huge economic potential, but it will also enable us to make the most of our oceans in smarter, more sustainable and more responsible ways.
Making the most of our data
At the UKHO, we hold marine data great in both breadth and volume. We produce over 15,800 Electronic Navigational Charts under our ADMIRALTY brand to support mariners internationally, as well as products to support national Defence in the UK. But in addition to our navigational information, we hold wide-ranging data sets about the composition and nature of the marine environment.
At a glance, this includes over 7.5 million profiles on the temperature and salinity of the ocean, 23,000 marine mammal observations, 7,000 bioluminescence observations, as well as a range of other data sets collected by ships, buoys, satellites, autonomous underwater vehicles, and more.
And we're working as an organisation to make this data more accessible, interoperable and, ultimately, more valuable for marine data users. From building on our teams' digital skills to exploring the value of machine learning and other data science techniques, this new approach is changing the way we collate, process and publish blue data at the UKHO, so it can be used for much wider range of applications.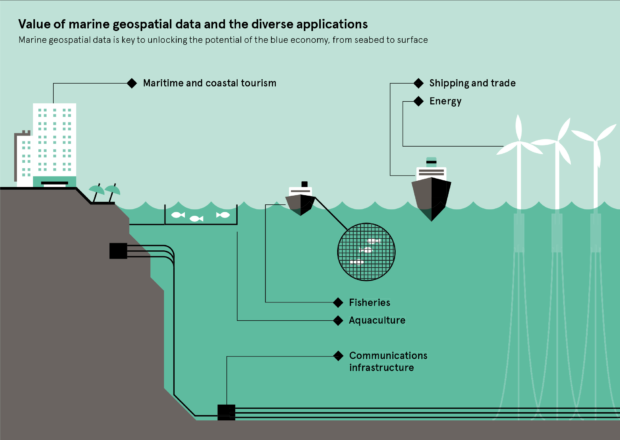 Supporting sustainability
One of the areas we've seen this data make a real difference is through our international hydrographic programmes.
Through our Overseas Territories Seabed Mapping Programme, we're supporting 14 UK Overseas Territories to sustainably grow their marine economies. And through the Commonwealth Marine Economies Programme, we're helping a further 17 Commonwealth states across the Pacific and Caribbean by working with our partners.
For these nations, we've seen first-hand the difference that accurate and up-to-date marine geospatial data can have on the livelihoods of their communities. This data can bring substantial economic benefits to these coastal and island states – from supporting fisheries management by producing seabed habitat maps, to improving trade and tourism by supporting navigational safety at sea.
You can read more about the projects undertaken as part of the programme on the CME Programme website.
Looking ahead
As our network of data suppliers continues to grow, we are committed to working with our partners to help realise the potential of the blue economy. You may have read about our work as a member of the Geospatial Commission – an expert committee which aims to drive economic growth by bringing together the UK's geospatial data.
By providing a wider range of solutions from the wealth of 'blue' data we hold, we will continue to help users make critical decisions in the rapidly-developing maritime sphere. Together, we are unlocking a deeper understanding of the world's oceans, supporting a sustainable and thriving blue economy for the future.
Cathrine Armour is Director of Customer Division at the UKHO.